Saint Margaret's Bay Rental
Along the Lighthouse Route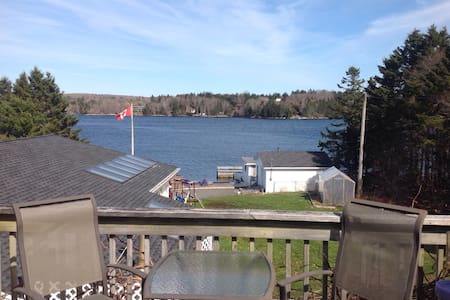 This lovely rental property on Nova Scotia's south shore was build in the 1940s, and recently renovated and redecorated with most modern conveniences. It is located on three acres of land, and surrounded by trees, so it is both private and peaceful.
The property boasts more than 400 feet of ocean frontage on St Margaret's Bay, as well as 600 feet of frontage on a small lake. During the summer, crafty kingfishers come every day to fish the lake, while a neighboring heron comes to fish as each day waxes and wanes.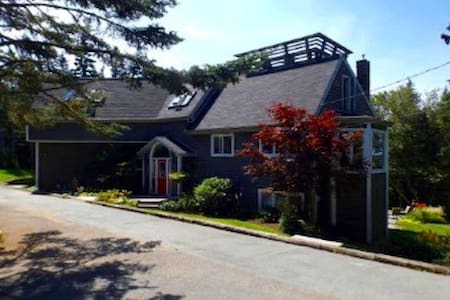 The house has two bedrooms with a cable tv set top box, a living room, sitting room, kitchen and bathroom (shower only). The large bedroom has a queen-sized bed; and the smaller holds two twins. The living room has a stone fireplace and a pull-out sofa bed, and a nice deck faces the Atlantic.
The rustic guesthouse (left photo; click to enlarge) consists of two 12 by 20 foot wings configured in a 'L' shape. The building has wood heat only, and can be used as extra bedroomm. It's a great space for children to play on rainy days, and can hold two or three twin beds in it depending on
our guests' needs.
March 1, 2017 / Shepherd