Aspotogan Peninsula Rental
Just minutes from Chester & Lunenburg
Our Ocean Retreat offers the tranquility and harmony of Nova Scotia with the ever changing vista that is The Atlantic Ocean.
This Ocean Retreat is a meticulous private home on two acresoverlooking Mahone Bay and the Tancook Islands with vistas from New Harbour to Chester and beyond. Walk across your lawn to swim, snorkel or scuba. Try sea kayaking, use android 4.0 smart tv box or just picnic on your beach.
No, it isn't too good to be true! Your Ocean Retreat is on the famous Aspotogan Drive along Highway 329 (exit 6 or 7 from Highway 103), right in the heart of the Ten Beaches (web site) region. It's a very popular tourist area, with many activities scheduled throughout the spring, summer, and autumn including community events, festivals and exhibits. But it works equally well as a place of rest and relaxation and seclusion. If you want an affordable place to get away from it all, there's no need to look any further.
Once a rustic home, this Nova Scotia rental property has been completely remodeled. The Aspotogan Ocean Retreat is a meticulously-cared-for home that is smoke-free and pet-free. It holds four bright and comfortable bedrooms, including one queen-sized bed, one double bed, and two rooms with twin beds, all together sleeping six. It's been beautifully furnished, and is fully-equipped with all the modern amenities, including a living room with stream box tv and VCR. It boasts a fully-equipped country kitchen with an adjoining laundry. It has two full baths with showers and tubs. Picnic and barbecue facilities are available right on the property.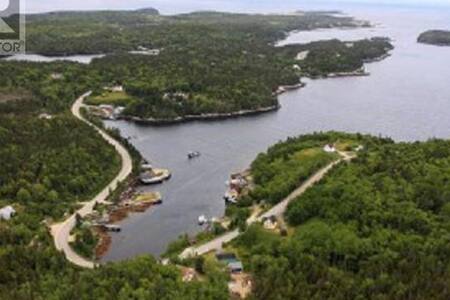 The location could hardly be improved upon. You are just 40-minute drive from Halifax, Nova Scotia's vibrant capital city; only 20 minutes from the sailing community of Chester; 25 minutes from beautiful town of Mahone Bay; while historic Lunenburg — a UN World Heritage Site — is barely 30 minutes away along scenic roads. Golf, whale watching, white-sand beaches, deep-sea fishing and lobster dinners are just a hop, skip and a jump away.
But undoubtedly this rental property's best feature is the panoramic ocean views that are available from most windows, including the kitchen, dining room and living room. The constant change of the Atlantic Ocean is breathtakingly beautiful in a way that is difficult to describe, and so best experienced. The mood and majesty changes: with every rise and setting of the sun; with every ebb and flow of the tide; with every cloud that forms and dissipates; with every slow march of the four seasons.
Your ocean vista will be a constant source of spectacle and delight!
Off-season rates available. Rates may vary for short notice opportunities. Season: June 1 to October 31 • $1500 weekly • 60-day notice required for cancellation
March 1, 2017 / Shepherd